9 Common Skincare Problems and The Solutions That Great Work
Skincare Problems and The Solutions:-In our fast-paced world, it can be challenging to take care of yourself. Between work, school, family obligations, and social events, there are not many hours in the day.
If you're reading this post, chances are you've struggled with your skin at one point or another. Having perfect skin is a goal for many people.
however, that goal seems so far away for most of us. The good news is that with the right skincare routine and some tips from professionals, you can have great skin again in no time!
Skincare Problems and The Solutions
1) What is the best skincare routine?
For best results, treat your skin like the organ that it is. Organ systems in our bodies (like the circulatory and digestive systems) are only healthy when we take care of them properly.
The same goes for your skin. Taking care of it properly can reduce your risk of developing certain skin conditions and improve the overall health and appearance of your skin.
You should be washing your face twice a day, applying sunscreen if you're going to be outdoors, and wearing a moisturizer year round.
Many people don't even realize that the stuff they're putting on their skin can affect the way it looks, too. When choosing a skincare product, make sure to look at the ingredients.
You want to try to avoid ingredients like parabens, sulfates, and benzalkonium chloride (just to name a few). If you can't pronounce it, you probably shouldn't put it on your skin.
2) Exfoliation: Why it's important and how to do it
Exfoliation is the process of removing the dead, uppermost layers of the skin. It is necessary to maintain healthy, glowing skin that can look younger for longer.
Experts advise that the best time for exfoliation is once a week. Choose a product specifically designed to give your skin a deep cleanse and leave it feeling silky smooth.
While it is tempting to use your hands to scrub your face, experts advise against this as it is easy to apply too much pressure and cause damage to the delicate skin on your face.
Instead, try an exfoliating face scrub with natural and organic ingredients like sea salt, coffee, or ginger to gently remove dead skin without damaging your skin.
Exfoliation acts like a mini-facial and can help improve the look and feel of your skin, especially when used regularly.
Exfoliating your skin can help remove dirt and oil that can clog your pores and make you more prone to breakouts.
Exfoliating your skin once a week can also help your skin look brighter and reduce the appearance of fine lines and wrinkles. Exfoliating is especially helpful for people who have oily skin or are prone to breakouts.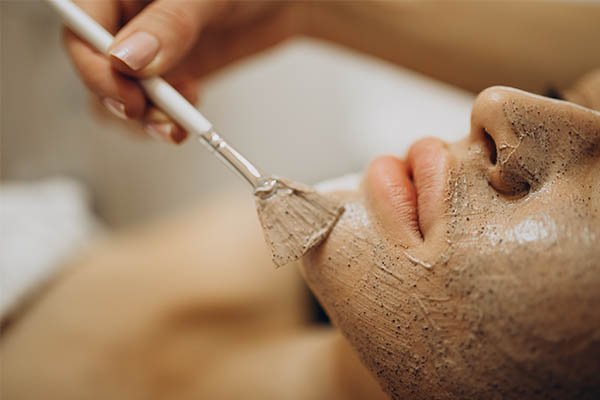 3) Finding the Right Products for Your Skin Type
Finding the right products for your skin type can be difficult. It can be hard to know where to start, and there are so many products available at your local drugstore! Finding the right products for your skin type can help your skin look and feel smoother, softer, and more hydrated.
If your skin is dry, you might want to try a moisturizing cleanser or moisturizing face wash. If you have oily skin, you might want to consider using a scrub to remove excess oil.
If you have sensitive skin, you might want to try a formula that's made with ingredients like aloe vera, lavender, or chamomile.
And if you have combination skin, you might want to try a formula that has ingredients that can help balance your skin.
4) Fixing your skin with nutrition
With so many skincare products and tools on the market, it can be easy to think that skincare products are the only things you need for healthy skin.
The reality is that your skin is one of the first lines of defense when it comes to your immune system. Therefore,
it is important to provide your skin with the right nutrients in order to stay healthy and resilient. Certain vitamins and minerals help your skin stay healthy and vibrant. Vitamin A, zinc, and Vitamin C are all great vitamins that can help keep your skin looking healthy.
Planning your diet with healthy fats, proteins, fruits, and veggies is the best way to ensure your body stays healthy. Taking vitamins is also a great idea, but it is important to find a vitamin that is natural and doesn't have any fillers in it.
5) Finding the cause of your skin problem
If your skin is broken out or has developed an allergy, it can be difficult to determine the cause. What you may not realize is that skincare products that you're using could be causing your skin to break out.
It may also be that you have an allergy to a certain ingredient. If you have been following all of the advice described above and your skin is still having problems, it may be a good idea to talk to a dermatologist. Dermatologists often offer free visits, so this may not be a very expensive pursuit.
If you're using skincare products and they aren't working, you may be allergic to one of the ingredients. If your skin is full of blemishes,
it may be a good idea to head to the doctor. They may be able to recommend skincare products that are right for you.
6) Dryness: Finding a solution for dry skin
Many people who have dry skin also have an allergy to something. Oily skin is also more prone to dryness. One thing is certain, you want to be careful what products you use and how often you wash your face and body.
If you are trying to hydrate dry skin, the first step is to identify what is causing it. Some common causes of dry skin include cold weather, water hardness, or certain skincare products.
If you have hard water, that may be the cause of your dry skin. You may want to consider investing in a water softener to solve this issue. Once you have identified the cause, you can take steps to treat dry skin. Try using a moisturizing face wash and moisturizing body wash.
Be careful not to overdo it and wash your face too often as this can irritate your skin even more.
7) Oily Skin: Finding a solution for oily skin
Some people with oily skin are lucky enough to only have oily skin. Unfortunately, most people with oily skin also have acne and sensitive skin.
If this sounds like you, you may want to try switching out your skincare products. Try using a gentle face wash that's made with ingredients like aloe vera or chamomile.
Avoid products with artificial colors and fragrances as they can irritate your skin and make it even oilier.
If you have oily skin, you probably don't want to use a heavy moisturizer as this will cause your skin to produce more oil. Consider switching to an oil-free moisturizer instead.
8) Combination Skin: Finding a solution for combination skin
Combination skin can be a real pain. You may have areas on your face that are oily and others that are dry. There are lots of products on the market that can help you address this issue.
If you have oily skin, try using a gentle face wash that is made to clean your skin without stripping it of its natural oils. For dry skin, you may want to try a moisturizing face wash or even a hydrating mask.
If you have combination skin, you may want to switch to a two-in-one product that will cleanse and moisturize your skin at the same time.
9) Dark Circles, Discoloration, and Blemishes: Finding a solution for uneven skintone
Having uneven skintone can make you feel self-conscious and leave you feeling less confident. Luckily, there are lots of products on the market that can help with uneven skintone.
Try using an under-eye cream to help reduce dark circles. Try to avoid heavy products because they can make your dark circles worse.
You may also want to consider switching to a gentler cleanser. If you have acne, you may want to avoid products with artificial fragrances. You may also want to consider switching to a sunscreen that is gentler
Also Refer:-Skincare Problems and The Solutions